A classic pastry done right.
Kunafa's has finally arrived in Mississauga
Kunafa, also known as Kanafeh, kunafeh or kunafah, is a traditional Palestinian cheese and dough pastry drizzled in a sweet, sugary-based syrup.
It can be prepared in various ways but the most popular world wide is called kunafa nabulsi, which you truly can't find anywhere in Toronto…until now.***UPDATE*** We're excited to announce that Kunafa's has finally opened in Mississauga Ontario so if you've been craving authentic kunafa in Mississauga or just a quick slice of kanafeh in Peel Region without the long drive to our Scarborough location, the wait is finally over!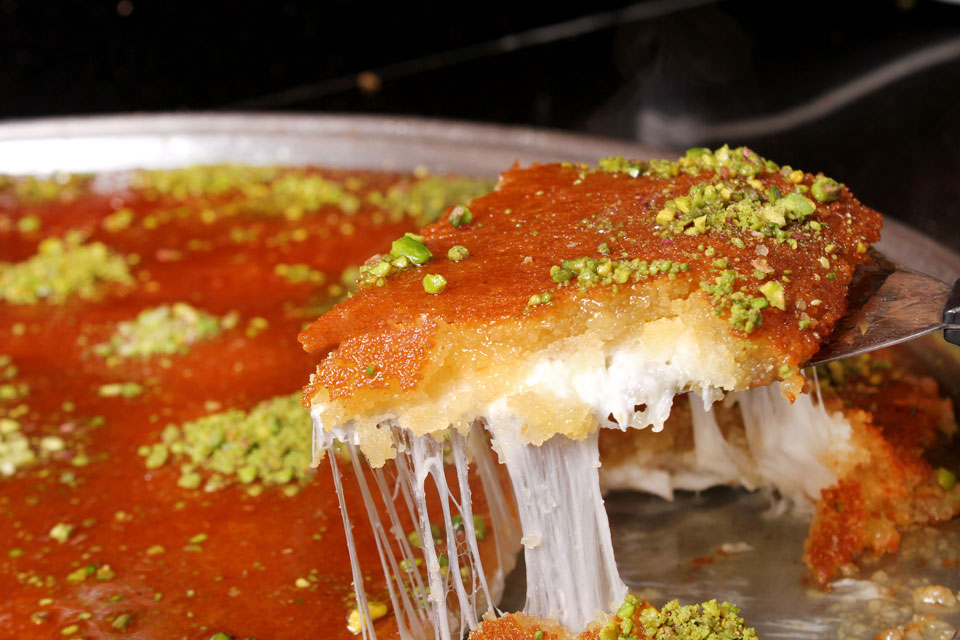 Our Love for Food
Before ever thinking to start a Kunafa pastry shop in Mississauga we were just thinking "where could we find some good Kunafa to eat in Mississauga". After several tries, we knew there was nothing like back-home.
In 2015 we decided to visit the Middle East in an attempt to learn everything there was to know about the making truly authentic Middle Eastern Kunafa. Several trips and a whole lot of Kunafa later, we felt ready to bring this dish, in all its glory, to the GTA.
Bringing it Home
Kunafa's has since become the only Arabic Pastry Shop in Toronto serving Kunafa prepared with the same kind Cheese and Dough only found backhome. If you've tasted Kunafa from places like Amman, Palestine or even Nablus, you'll instantly feel at home when you bite into one of our mouth watering pieces of Kunafa. For more on us, checkout this recent article where we were featured by the CBC
Oh and, if you've never tried a piece before, let us be the first to say You're Welcome.
View Kunafa's Menu
Checkout what's on our menu and visit Kunafa's today for a taste of irresistible sweetness. We have freshly made Kunafa, Awama, Coffee, Tea and more.